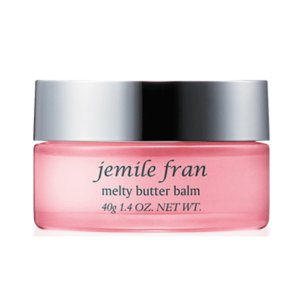 Milbon Jemile Fran

MILBON JEMILE FRAN melty butter balm Hair treatment [Solid type]
For beauty even in your busy daily life. Milbon Jemile Fran Hair Care Series maintains beauty through simple care.
A non-washed hair treatment that creates a calm and stable hairstyle. Contains a moist moringa butter x double blend of shea butter that produces a soft hairstyle rich in moisture and added lightness. Pure peony scented for a soft, relaxing effect. 
How to Use:
After shampooing, towel dry and apply a small amount to your hands.
Apply from the middle of your hair to the tips.
*Please use a small amount (you'll be able to see results without using much product)*
40g 
What is jemile fran?
A care series that transforms your hair into beautifully swaying hair that doesn't become tangled. It is believed the product tailors towards working women in their twenties who need to easily take care of their hair even when busy. The hair of women in their twenties is prone to damage from the middle to the tip of the hair, and the hair of harder working women in particular might become tangled or lose color and iron. 

This product is a multi-functional moisturizer that regulates the balance of oil and moisture to penetrate deep into the hair. It contains a silk softener to further protect the moisture in your hair. It creates a relaxed hairstyle, adds shine and forms a strong water film that produces a calm and soft silhouette. Pure juicy peony scented for a soft and relaxing effect.

-------------------------------------------------------------------
 *This product will might ship by sea mail due to the ingredient depending on the country.
Please note that it takes 2-3 month in that case.